Since it is awards season, the current Iron Craft challenge was to create something inspired by a movie or tv show or something to wear on the red carpet. My inspiration can from the Emmy Award winning Downton Abbey.
I love the costuming on the show and it has been really fun to watch the fashions change as they move forward in time. Clothing has even become a plot point from time to time, from Sybil wearing harem pants for dinner to Branson's refusal to wear a morning coat to Matthew and Mary's wedding. This was a time when women wore fabulous hats and that is where I took my inspiration. There are a few patterns out there for hats inspired by Downton Abbey, but I ran across this Braided Brimmed Hat that reminded me so much of Sybil's cloches I knew I had to make it.


Here I am modeling my finished version at the stately Highclere Castle (I spare no expense for Iron Craft).


(Yes, I'm looking a little down here, but who wouldn't after all that happened this season on Downton?!)
This pattern was a quick knit since it is done with two balls of Aran weight yarn held together for a gauge of 3.5 stitches per inch. I used Universal Yarn – Deluxe Worsted on size 11 needles. It is quite a simple pattern with an easy cable band. The cable really helps pull the body of the hat in and give it it's shape. I only ran into one problem with the pattern and that was in the increase round on the brim. The pattern says to "k6, inc", I read this as knit six stitches and increase into the the seventh. What you are actually doing is knitting five and increasing into the sixth to get the correct number of stitches at the end of the row.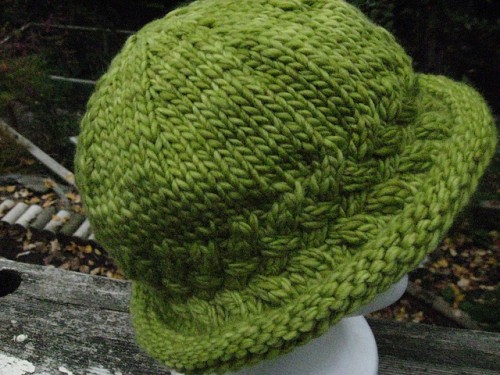 A lot of people seems to have to mess with the gauge on the pattern to get an appropriate fit. I didn't have any problem with the width of the hat, but had to make it taller. I had finished it to the last two or three rows and decided it just wan't long enough in the body for me. I ripped back and added an extra inch of stockinette after the cable band and before the decreases.
I never make hats because I don't like the way they look on me, but I have to say I really like this one. There is something about a brim that makes it much more appealing than a beanie. I'm really glad I spent the $5 on the pattern.
If you are not reading this post in a feed reader or at http://justcraftyenough.com then the site you are reading is illegally publishing copyrighted material. Contact us at justcraftyenough AT yahoo DOT COM. All patterns, text and photographs in this post are the original creations & property of the author unless otherwise noted.
© 2005 – 2013 Kathy Lewinski & Susan Cornish