Have you ever started a sweater, only to find it in your WIP basket a year later?
Let's gang up on this project and get a sweater done, one week at a time. There will be weekly assignments and we will knit together. We can compare notes. And to the best of my ability, I will answer questions and try to push you through the hurdles. We'll share pictures of our progress on Flickr.
Back in the day, I owned a knitting store. One of our most popular and most successful classes was "My First Sweater". We took people through all the knitting lessons they needed to complete a sweater in SIX WEEKS. Not just any sweater, but their first sweater. It was very rewarding to watch people make something that they were pleased to wear.
I would like to be able to share in that anticipation and excitement with all of you, here. This is not just for new knitters. Or even new sweater knitters. Anyone of any ability can join on in.
We will start together on Monday, October 1. We will work away for 8 weeks and have a new sweater that we are happy to wear for December 1st.
The pre-work is fun!  Look through your queue and your stash, then pick a sweater that you want to do. For this project, I would like you to chose one that is knit from the top down.  (Why, top down? Because the sweater I am doing is knit top down and the weekly assignments will be given for a top down pattern.  Plus, top down construction allows you to easily try on a sweater and adjust the fit as you go.)
And here, to help you get started, is a little sample of top down sweaters to choose from:
Park Avenue Cardigan

Dawn
Lace Petals
Driftwood
Etude in stripes
Weekender
Sally Cardigan


Top down pullover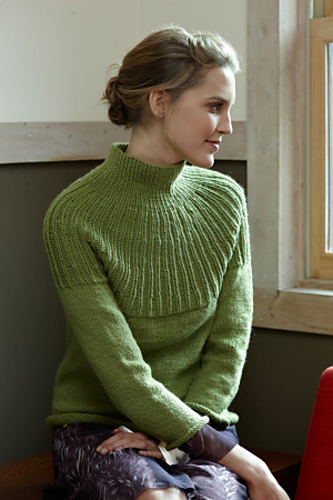 If none of those suit your fancy, here are 732 free patterns for sweater knit top down on Ravelry. Of course, you can also pick a sweater from a magazine or book you have at home.
Here are my tips for picking out a successful pattern. Think about what style looks good on you. Picture your favorite sweater or jacket in your mind, then have a look at the patterns you are considering. Are they similar? Or do they have similar elements?
Or, the opposite, think about a sweater you brought home, and NEVER wore. What was the issue? Did it pull around you?
What length of sweater do you prefer?
What length of sleeve looks good on you?
Have I got you thinking now?  Are you brave enough to join?!?
Here is what you will need to do:
Find a favorite sweater (or fleece even) that you already own.  We will need it on hand and be taking measurements from that.
Pick out the yarn you are going to use. The pattern will offer yarn weight suggestions.
Do a swatch. (if you say, "oh, I don't know, I'm not good at swatching. I just want to get started" I will point you here, for the  importance of gauge.) Gauge is so crucial to the success of this project. So some swatching friends.
That's it. We will go step by step from there. Here is what we will bring to the table:
Weekly assignments – so you will know that we are on track.
Help with the process.
tips and tricks from experienced sweater knitters.
community.
camaraderie
personalized help (to within the best of our ability)
Feel free to ask any questions about this project or let us know which sweater you will be doing in the comments.
I am busy, going through my pattern book!!
If you are not reading this post in a feed reader or at http://justcraftyenough.com then the site you are reading is illegally publishing copyrighted material. Contact us at justcraftyenough AT yahoo DOT COM. All patterns, text and photographs in this post are the original creations & property of the author unless otherwise noted.
© 2005 – 2012 Kathy Lewinski & Susan Cornish