Ok, my crafting schedule is a little full these days between Iron Craft, Project Project Runway, the Granny Square Afghan Sampler Project and the Advent Calendar Project. In any given week I have three projects that are due. Something is bound to fall between the cracks. I was afraid it was going to be Iron Craft this week. I struggled to come up with a project that I could make in the time I had left myself. At first I was going to try to make Olympic and English theme swizzle sticks from shrinky dink plastic, but my husband vetoed it on the ground that he didn't know if shrink dink plastic was food safe. So, it was back to the drawing board. I started wondering if I could make a colorwork knitting chart of the Queen's silhouette. I sat down and started playing and came up with this.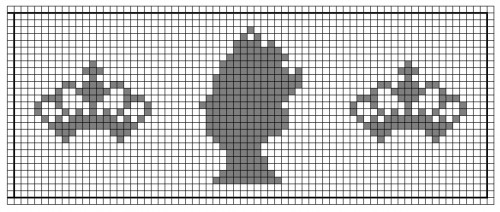 I also decided to chart up the jubilee crown. I don't know, do you see the queen there? Maybe if you squint a little. It's based on the profile used on stamps and coins.


Ok, maybe it's a little more Simpsons' version of the Queen. I do think the crown charted up nicely though. I decided to go ahead and knit it up to see if it looked any closer to what I wanted, so I did a quick coffee cozy.

If you are not reading this post in a feed reader or at http://justcraftyenough.com then the site you are reading is illegally publishing copyrighted material. Contact us at justcraftyenough AT yahoo DOT COM. All patterns, text and photographs in this post are the original creations & property of the author unless otherwise noted.
© 2005 – 2012 Kathy Lewinski & Susan Cornish