I love seeing different people's interpretation of the same quit.
Here are three lovely ones.


This is called Innocent Crush Rectangle Squared Quilt, by Film in the Fridge.
She blogged about it here
She also posted a tutorial on how to make the blocks. It is super helpful, with lots of pictures and measurements.
Then, the lovely "Penny"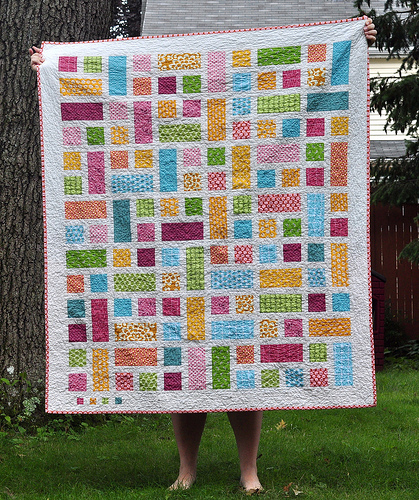 This is by Liz. AKA Goddess in Progress. And is blogged here.
Check out the four little squares at the bottom left edge. It's like a little printing color check. It makes me chuckle. (Film in the Fridge did that too.)
And then there is this one


Rectangle Cubed Quilt, by Rebecca at Duzza Bear
What a stunning trio! it is so neat to see the three different color ways. There is an icy light blue winter pallet, then a bright summer combination, and finally an ocean blue waters.
Enjoy!
If you are not reading this post in a feed reader or at http://justcraftyenough.com then the site you are reading is illegally publishing copyrighted material. Contact us at justcraftyenough AT yahoo DOT COM. All patterns, text and photographs in this post are the original creations & property of the author unless otherwise noted.
© 2005 – 2012 Kathy Lewinski & Susan Cornish