I'm a sucker for a good knit toy, so was thrilled when I was asked by STC/Melanie Falick Books if I wanted a copy of Knitted Dinosaurs. As the aunt of six nephews, I was even more thrilled.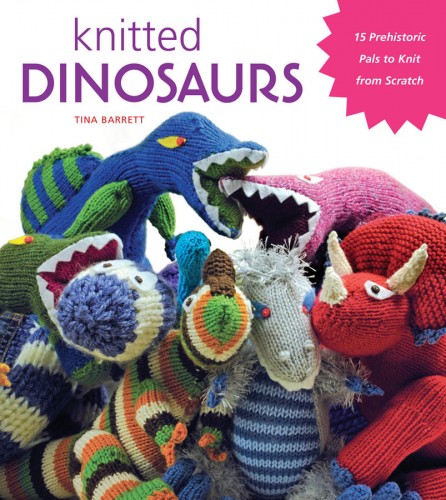 Knitted Dinosaurs contains whimsical patterns for fifteen actual dinosaurs that even the beginning knitter could tackle. Ability to knit, purl, increase, decrease and do some basic sewing are all that you need to complete these toys. Every dinosaur is knit flat and then seamed together. There looks to be a fair bit of seaming for each dinosaur, but this is what gives them their great shapes. A clever threaded joining technique is used to attached the arms and legs so the dinos are movable and posable for optimum fun.

Thanks to moveable joints this Pterodactyl can fly.
The book itself is full of bright colorful pictures of the dinosaurs frolicking. There are fun dinosaur facts and even a guide to correctly pronounce each dinosaur's name. You might have a hard time getting the book away from your favorite dinosaur lover. They'll want you to knit up every pattern, but they won't want to give up their new picture book in order for you to do it.

The Allosaurus is awful fierce!
The end of the book has a very handy section explaining all the techniques used to make each dinosaur from casting on to embroidery to assembly. Great for the newer knitter, but also a nice resource for those of use who have been knitting for awhile and sometimes need a reminder on a certain skill.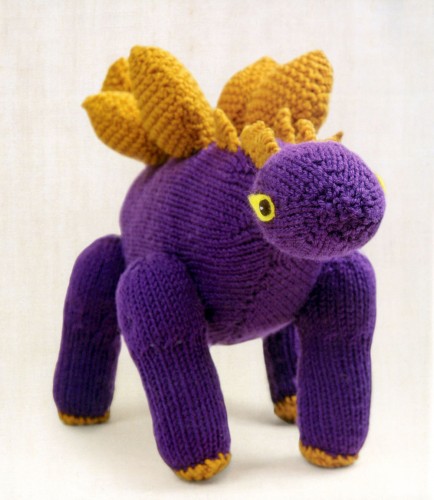 Make sure you check back tomorrow when we'll have a free pattern from Knitted Dinosaurs to share with all of you! You know you want to knit this Stegosaurus!
*Disclaimer: We were given a copy to Knitted Dinosaurs to review and giveaway. We were not compensated in any other way for this review.
If you are not reading this post in a feed reader or at http://justcraftyenough.com then the site you are reading is illegally publishing copyrighted material. Contact us at justcraftyenough AT yahoo DOT COM. All patterns, text and photographs in this post are the original creations & property of the author unless otherwise noted.
© 2005 – 2011 Kathy Lewinski & Susan Cornish