This week I upgraded to a new iPhone 4s. Sadly my beloved red leather case with the white racing stripes wouldn't fit it, so I had to find a new case. How could I resist one that you can design yourself?!


I got this Cross Stitch Silicone Case
from Amazon. It comes in a bunch of different colors, but I went with basic black. Now I need to decide what to stitch on this blank slate. I'm leaning more towards a pattern than a picture of anything, perhaps something in a chevron design.
Surprisingly, my husband, Matt, wanted to stitch his own case too (I totally thought he'd want me to do it for him, but no he says he can so this himself). He's thinking of doing something like George the character from the Lego game, Life of George.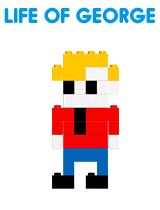 George, is afterall, a software engineer just like Matt.
Now you know what excitement we are up to this weekend. So, what would you stitch on your phone? I'll share our finished designs next week.
If you are not reading this post in a feed reader or at http://justcraftyenough.com then the site you are reading is illegally publishing copyrighted material. Contact us at justcraftyenough AT yahoo DOT COM. All patterns, text and photographs in this post are the original creations & property of the author unless otherwise noted.
© 2005 – 2011 Kathy Lewinski & Susan Cornish